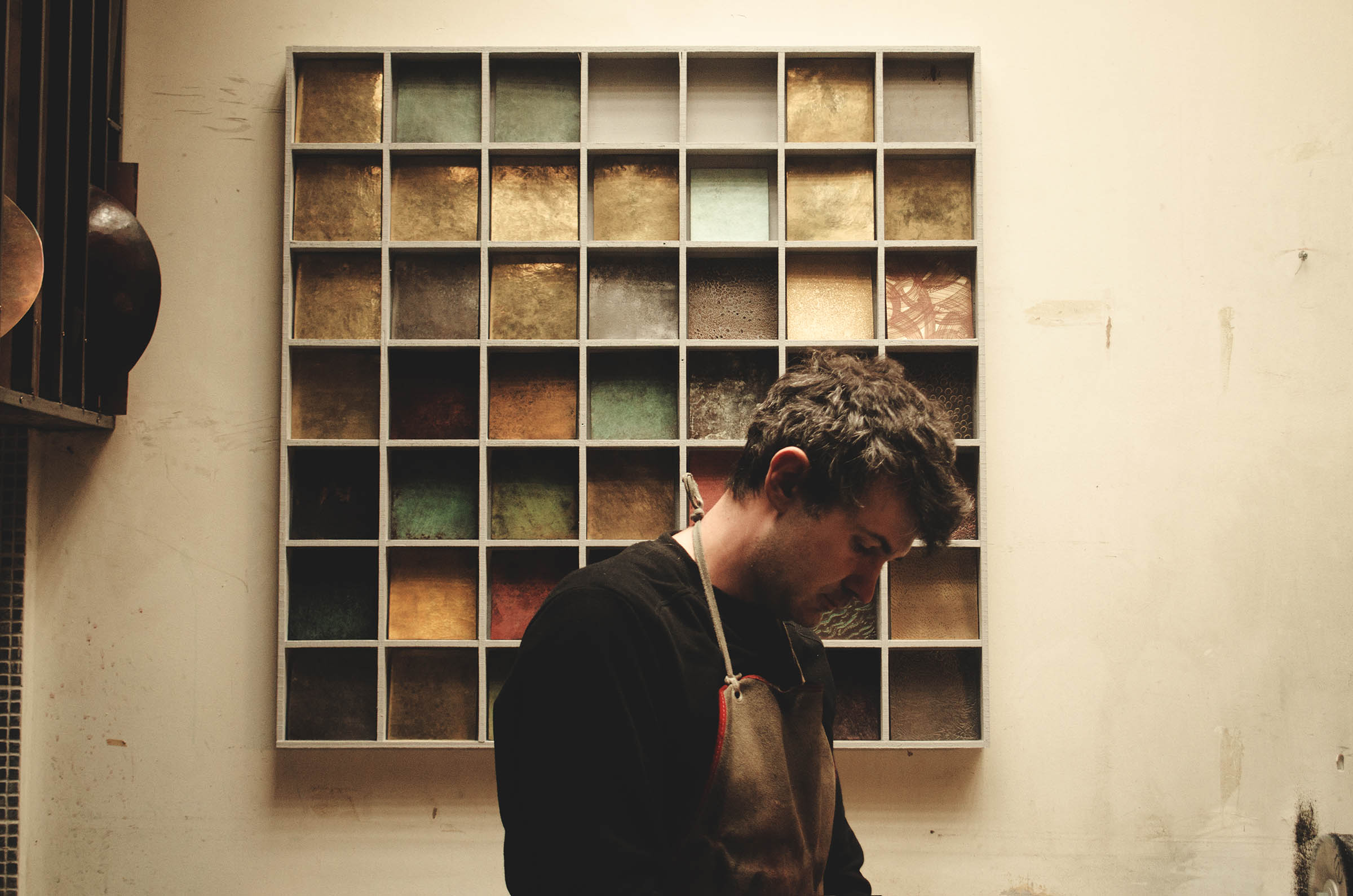 "My work is about materializing 'beautiful' shapes that bring peace and serenity to those who see them." 
(Nathanaël Le Berre)
The life of an artist is not plain-sailing. It is a long and winding road, filled with decisive moments, encounters that shape it and send it off in new directions, but it can also lead to dead-ends. It's a compelling, perpetual inner exploration that takes you to places you could never have imagined.
Nathanaël Le Berre's creative journey undoubtedly began in early childhood. His grandfather was a calligrapher with a passion for religious iconography. His father was an amateur craftsman, but it was his mother who essentially cultivated his taste for the arts, particularly drawing. Growing up in this environment, the boy seemed destined for an artistic career. During his years at the ENSAAMA School of Applied Art, he met various figures from the art world and discovered how metal can be fashioned. This led him to take up freehand artisanal metalwork, and all the cultural and technical knowledge that goes with it. His artistic approach touches on the cosmic as well as the organic, but it also has a practical element, similar to the Functional Art movement.
Inspiration
Le Berre's work reflects all the things that inspire him, from nature's most basic shapes to the more complex forms of the human body. Some of his works conjure something almost mystical or supernatural. This reflects the influence religion had over his early years.
Alongside works such as L'Infini, Méïose and Le Souffle, whose mesmerizing organic shapes invite the viewer to lose themselves in their meandering contours, Le Berre has also created more traditional, functional works like his Maïa wall lamps and the shelf-like sculpture La Vague d'encre. "My work is based on three things: the material, the technique and the repertoire of shapes that I have developed overtime by observing the world around me," he explains. "I like to transform familiar, common shapes to make them part of my own universe. In recent years, my contact with decorators and gallery owners has led me to experiment with new approaches and move towards more functional pieces, reimagining furniture and lighting."
3D design
During the design phase, each piece goes through three dimensional analysis, with the help of a CGI 3D drawing, or a very small scale model in aerated concrete. These methods have an advantage over a simple drawing: "I sometimes rely on sketches to create some of my pieces, but I'm a bit wary of it," Le Berre notes. "The perspective is far too flat, which leads me to repeat myself, going back to the same shapes over again. I need to get beyond that to create, to work more instinctively. With a material like aerated concrete, I can see the piece in three dimensions; I can turn it over in my hands and not just in my head before shaping it in metal. I'm a bit like a giant, manipulating the size and shape of my pieces, adding here, subtracting there. I'm as close as I can get to my creations. I need tangible material to get a sense of the space a piece will fill." When making a model, Le Berre scrapes, sands, rotates, emphasises a curve, rounds off an angle. "During the preparatory phase, I can let my imagination loose. I create forms, put them together, take them apart, and reshape them. I purposefully go off track. It can be maddening at times! Then the piece begins to take shape."
Creativity over technique
It takes years to master all the subtleties of the traditional craft of freehand metalwork. A metalworker must learn to judge the suppleness of the metal with the naked eye, the way it bends and undulates under the hammer. He must keep the final shape in mind while understanding the material's propensities and adapting to its movements, blow by blow, making constant adjustments to retain control throughout the entire process. Through years of practice, Le Berre has mastered various techniques but makes sure that they don't determine his artistic choices. "Techniques must be learnt, but they can interfere with the creative process," he explains. "You have to go beyond them and get back to original sources of creativity".
He was not always so proficient. Before he could come into his own, he had to master these skills. "In the beginning I wasn't interested in the technical side of things. Maybe I was stuck on the idea that contemporary art was about total freedom," he muses. "I gave it a wide berth before realising that the only way to be free of it was to conquer it, be able to control it and put it to good use. Traditional metalwork is an extremely demanding technique. It shapes you in the same way as you shape it."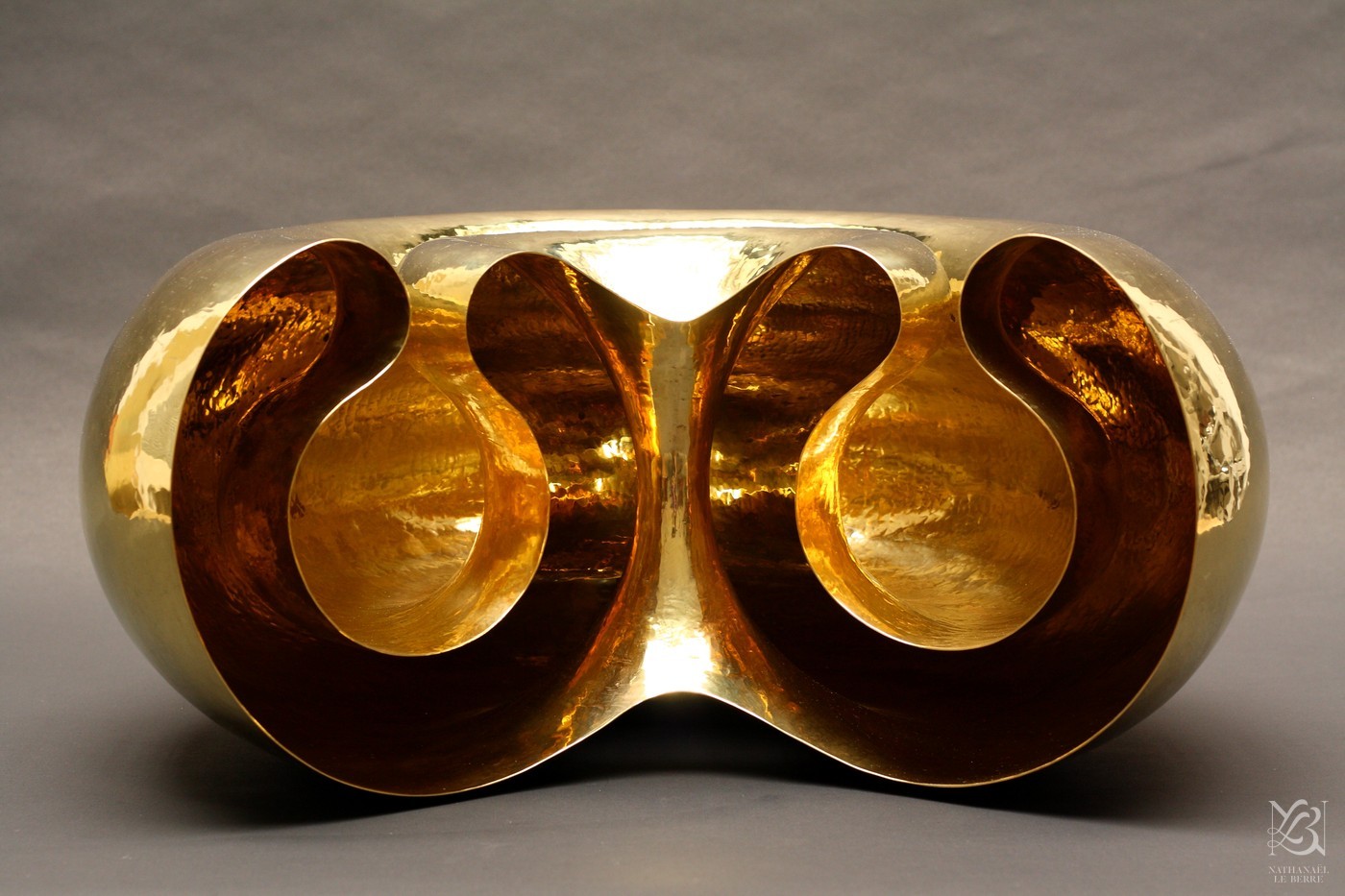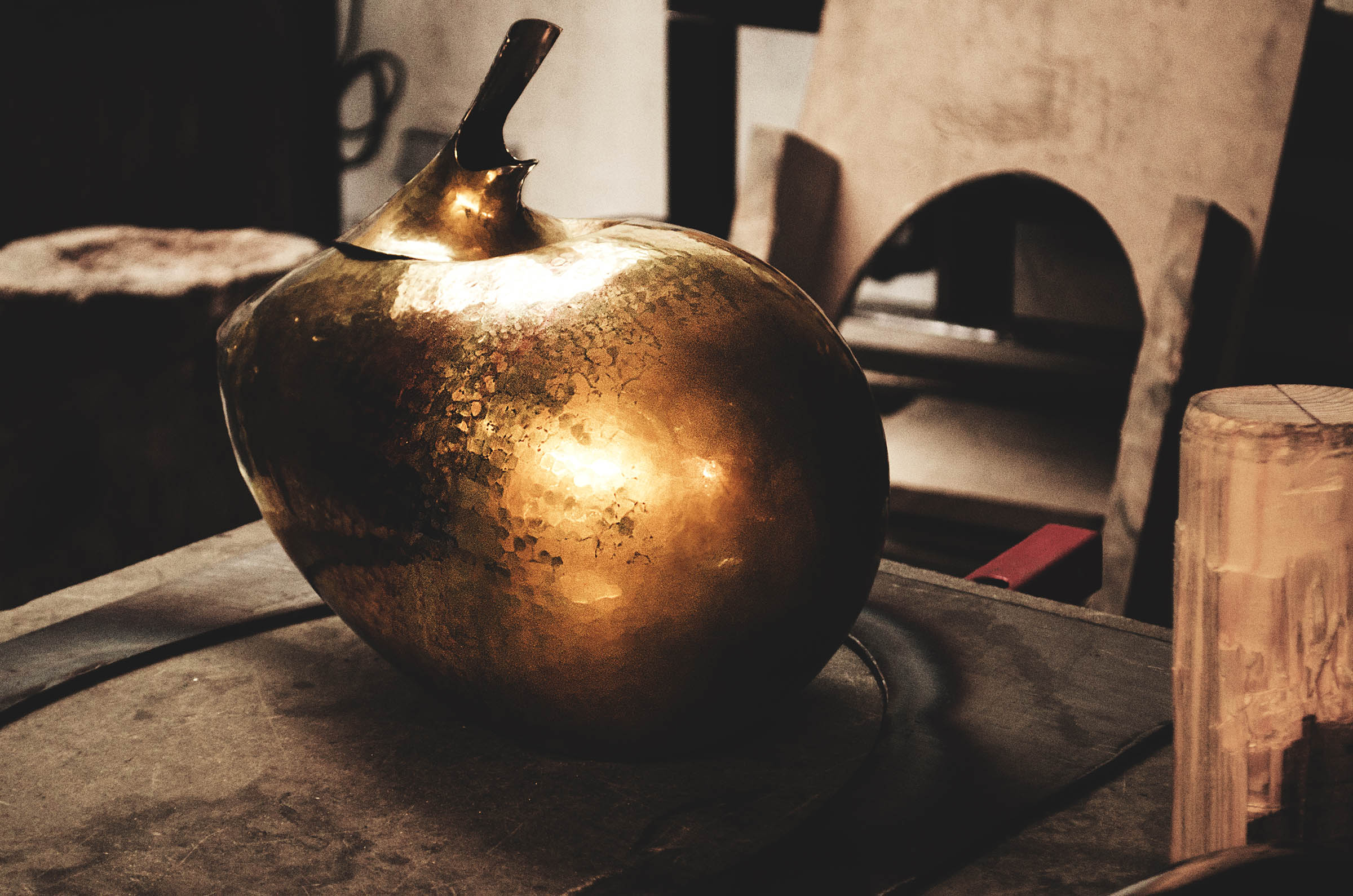 Artistic development
Le Berre's early sculptures conveyed his exploration of spaces, of the contrast between the outer dull shine and the inner immaculate brightness. These are works that pull the viewer in, inviting them to marvel at the way the material curves and curls, spirals and interlaces to create openings and spaces.
He then turned his attention to decoration, discovering a wide range of finishing that served as a basis for a new form of expression. "Adding patina, colour and shine is a crucial and challenging step, especially since there is mounting pressure towards the completion of a work," he explains. "Decoration is a way to re-appropriate the work, to give it another significance."
After the deliberate minimalism of his earlier work, Le Berre's aesthetic has refined and developed over the years to become more functional and expressive. "My various professional experiences, such as the commission from Christian Liaigre and my close relations with gallery owners, drove me to revisit my approach", he says. "These days I think about my work differently. With objects such as shelves and lamps, I'm moving towards a mix of form and function, towards the decorative arts. I want to get away from obvious shapes." While he acknowledges an affinity with the Functional Art movement, he has far from given up on pure sculpture. His purpose remains the same–to create objects that move us, to infuse the metal with emotion.